Why give us a design brief?
Marie April 27th, 2017
You've chosen the exhibition and booked your space, now you need an exhibition stand that ensures your brand is highly visible through the hustle and bustle of a busy trade show and attracts all the right people.
That's where we come in!
In order for us to design, manufacture and install a custom built exhibition stand, we need as much background information as you can give us. When putting together your design brief, below are the factors you need to consider.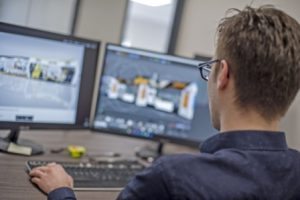 The stand space and exhibition environment:
What is the floor space area available?
Are there any walls or sides to the stand? Is it an island or corner site?
Are there any obstructions to the plot e.g. pillars?
Please supply a floor plan. This shows from which direction the visitor traffic flows.
Are there any particular areas of the stand that you feel are important with regards this traffic flow?
Have you booked space only or a shell scheme?
What are your motives for exhibiting at the show?
Try to list your key objectives. What are you aiming to achieve? Is it to sell products, maintain relationships with customers, be hospitality orientated or simply to have a corporate presence at a key industry show.
Whatever you are aiming to achieve, try to qualify:
What is your target audience?
What do your target audience like to see on an exhibition stand?
How do you want your company to be perceived at this exhibition?
What are you presenting at the exhibition?
Will you be demonstrating all of your product range? If so, which should be given the most attention?
Are you launching new products or services at the show?
How are your products best demonstrated and what work area will they require? How many people would you demonstrate to at any one time? Are demonstrations best conducted whilst seated or standing?
Can you provide specification sheets for your products detailing size, power requirements, what they require to be best demonstrated?
What are your key corporate messages?
Which logo will you be using? Are there any corporate guidelines for us to follow?
What are your corporate colours? Are pantones available?
What do you need the exhibition stand to achieve?
Do you require meeting rooms – if so, should these be completely private (fully enclosed) for formal meetings, partially open (private yet open to create a less pressured environment) or completely open?
Do you require storage – if so, what for?
Do you require a reception or welcoming area?
Will you be serving drinks or food on the stand? If so, what kind?
Will you require PC/iPad demonstrations for your products?
Will you require plasma screen demonstrations – if so, will this be for a detailed discussion or to attract visitors to your stand?
Will you be giving out literature – if you are, will this be given out by members of staff to increase effectiveness, or displayed towards the edge of the stand so anyone can take information as they walk by?
Personal motivation for the stand:
What do you believe should be the image that your company is projecting at the show? Should it be very corporate and scientific, or relaxed with a theme? What do you believe your target audience would like to see from a stand?
Have you done anything or seen anything on previous stands which you think could work again – competitions, giveaways?
Do you prefer an angular or a curved feel?
Have you seen anything at exhibitions you have attended which you really like?
Any thoughts with regards to flooring?
Any thoughts with regards to lighting?
Do you like your stands to have lots of graphical information, or simple corporate messages? Or a mixture of both?
Are there any images that you would particularly like to see on the stand?
Do you prefer open stands, or do you like closed stands?
Stand manning and logistics:
How many staff will be available to man the stand?
What type of people will they be – largely sales team members?
Any thoughts on stand dress code?
What type of stand?
If you were to choose a stand design, would you want it to be used a couple of times and then disposed of, or would you like a stand that can be reconfigured for smaller shows over a number of years, and one that allows you to change graphical appearance very easily?
What is your stand budget (stand construction, onsite services, and graphics) for this show?
What is your stand budget for one year typically?
To help you can download our Enquiry Form
As exhibitions prove, face to face is still the best form of communication. With this in mind we'd be delighted to get together and discuss your requirements further. So please, pick up the phone and give us a call on 01527 918949 or email us to arrange a meeting. We would love to hear from you, no matter how large or small the project.
---