Why choose a custom-built exhibition stand over a shell scheme?
Marie December 13th, 2018
Exhibitions are one of the most powerful, versatile and cost-effective marketing communication tools available. They present an ideal opportunity to catch up with existing clients, while showing your products and services to new prospects. So it's imperative to make the right impression with your stand in order to attract visitors onto it – and keep them there.
When it comes to choosing the stand type, there are two main options: a basic shell scheme or a custom-built stand. But how do you decide which one is right for your next exhibition? Perhaps you've gone down the shell scheme route until now but are wondering whether it's time to ring the changes?
Your budget is of course a key consideration. An off-the-shelf stand will always be the cheaper option. But that doesn't necessarily mean it's the best option. Depending on your marketing objectives, a custom-built stand may well pay for itself in terms of the business you win (or retain) as a result.
Shell scheme stands
Some of the disadvantages of shell scheme stands are the fact that:
• They have standard framework, fascias and light packages, so they all tend to look the same
• Nothing can be attached to the walls, making it tricky to display products
• They have a height restriction of 2.4m
• The space is normally more expensive per square metre, as you're paying for the metal system
• The carpet or floor tiles are generally the same colour throughout and made of a thin material
• Their walls can create a 'barrier' to visitors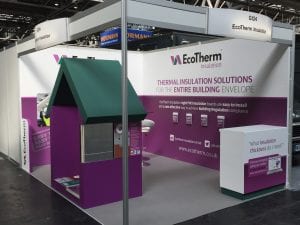 Custom-built stands
In contrast, custom-built stands offer many advantages as they:
• Allow you to 'dare to be different', thus standing out from your competitors
• Maximise your presence in the busy exhibition environment
• Can accommodate bespoke product displays
• Are built on space-only plots that cost less per square metre than a shell scheme
• Are not restricted in height, enabling your design to have more impact and visibility as well as the option to build over two tiers
• Allow a suspended banner for added height and stronger branding opportunities
• Can include special features including private meeting/hospitality area, lockable storeroom, lightboxes
• Offer endless possibilities of video, animations, virtual environments and interactive games
• Allow you to build brand awareness and create a buzz
• Will help you generate the best leads for your business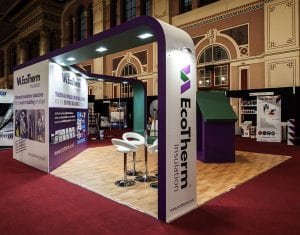 Why use Quattro Display?
Here at Quattro, we offer the complete turnkey service from conception through to installation. Your dedicated point of contact throughout will be one of our experienced Project Managers. After discussing your specific needs and objectives, they will brief our designers to produce visuals of your stand like these examples.
Our itemised quotation covers:
• Design of the stand
• Manufacture in our workshop
• In-house production of graphics and application on-site
• Submission to the show organisers to comply with CDM regulations (Risk Assessment, Method Statements, Health & Safety, & Plan Approval)
• Service orders; lighting, electrics, WiFi, rigging, floral etc.
• Furniture, bespoke counters, lockable storerooms
• Project management
• Transportation and logistics
• Installation and dismantling of your stand
Once you give us the go ahead, we use our years of experience to ensure that your stand is built on time and within budget. This includes a full handover and sign-off on site.
In addition, we also offer our clients the opportunity to store their stands. This proves more cost-effective if you're planning to re-install at future shows over a period of time.
To find out more about the many benefits of a custom-built exhibition stand or for a no-obligation quotation, contact us on 01527 918949 or email: info@quattrodisplay.com.
.
---