Case Study – Xograph Healthcare at UKRC
Marie August 14th, 2018
Background:
Established in 1967, Xograph Healthcare is the UK's leading independent medical imaging solutions provider offering their customers market-leading imaging technologies from global healthcare brands.
Exhibiting at the UKRC 2018 Radiology Congress in Liverpool, UK, Xograph wanted a high-quality, professional and stylish exhibition stand within which they could showcase their products and offer a comfortable environment where visitors could be welcomed.
The design brief was for the display area to be split into two distinct halves: one side for product display and the other for meetings and hospitality.

What We Did
Quattro provided a solution which allowed the stand to be split down the middle but still retain the look of one large stand; this was achieved by laying matching carpet down the central aisle. A large circular hanging banner was rigged overhead to give the stand extra height and brand visibility as well as acting as an element to join the two halves of the stand together.
The raised stand floor had to be designed with reinforcement to allow the relatively heavy mobile X-ray products to move easily during demonstrations but safely bear the weight of them. In order to achieve this, Quattro laid smooth, hard surfaced melamine-faced chipboard (MFC) circles on top of solid supporting blocks for the mobile products and finished the rest of the stand with carpet.
To help the stand attract the eye and drive footfall, the floor was finished with a blue LED kick and an illuminated reception / refreshments bar giving it the 'wow factor'.
To complete the hospitality area, we added attractive floral planters and comfy seating which gave visitors a luxury experience.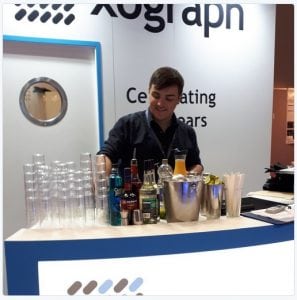 Testimonial
"Very positive feedback from everyone on the Xograph stand at our medical imaging exhibition; thank you to Quattro Display for all your help both in the careful and considered preparation, and in the final execution of our stand. The Quattro stand build team on site were excellent and nothing was too much trouble for them. Yet again another great job by Quattro Display."
Marketing Director, Xograph Healthcare
---